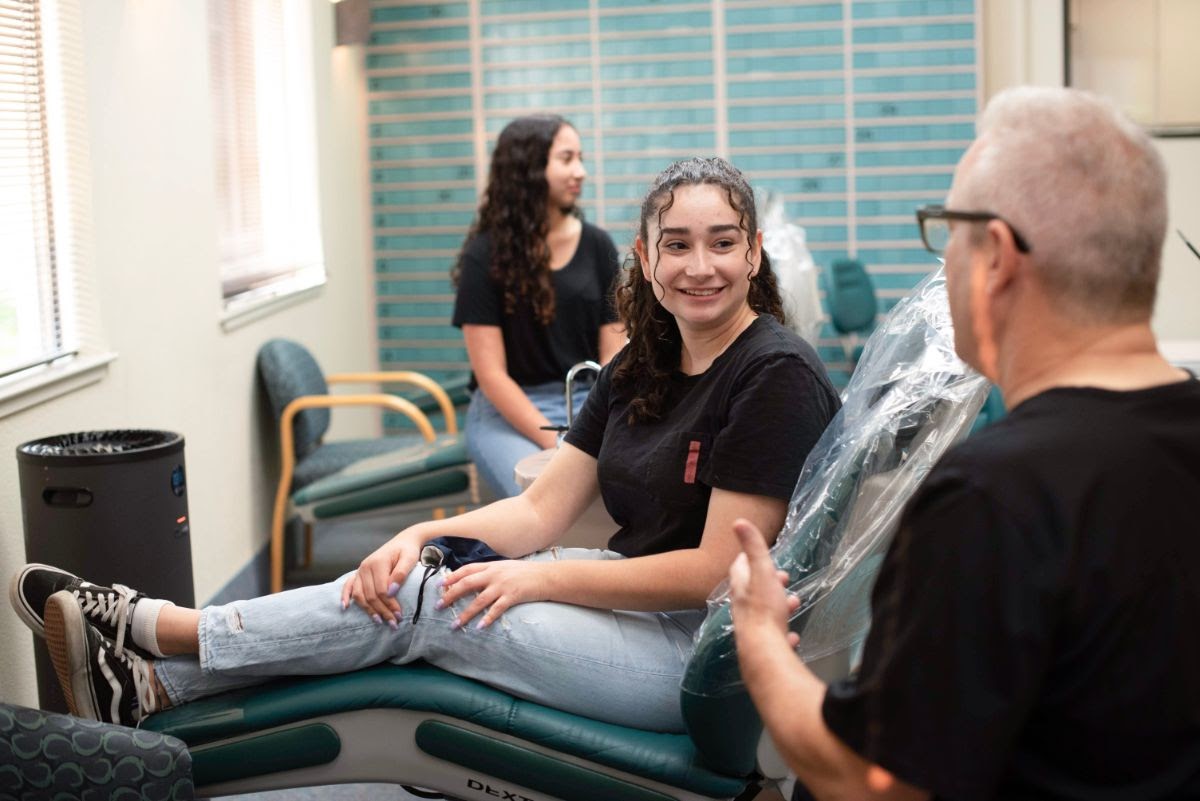 Traditional braces have gone through quite the metamorphosis in recent years, with changes to their design, shape, and size. The braces we use today are smaller, more aesthetically pleasing, and more efficient than ever before at correcting a wide range of orthodontic issues. As innovative as these new designs have been, some patients are still on the fence about using braces to straighten their smile. Thankfully, there is a clear alternative to straighten your smile! Keep reading to learn the truth about Invisalign!
Bigman Orthodontics is proud to offer Invisalign clear aligner therapy as an alternative to traditional braces. This exciting system lets patients achieve the same beautiful results as braces without using any brackets, wires, or bands. Because Invisalign is still a relatively new option in orthodontics, not everyone is aware of what it is and what it can do. There are quite a few misconceptions out there about Invisalign, so we're taking a closer look to let you know exactly what you can expect from the Invisalign system.
What is Invisalign?
Invisalign clear aligners have been around since the late 1990s but similar trays were used for decades before that as post-treatment retainers. The innovative Invisalign software and technology allows us to move crooked and misaligned teeth in stages using nothing more than a series of customized aligners. At the end of each stage, patients replace their current aligner with the next in the series to keep up with the movement of the teeth. This will generally be every one to two weeks, but the exact time frame depends on each patient's treatment plan.
Originally, Invisalign was used for simple spacing issues or very mild crowding. Once orthodontists began to realize its potential, however, the design was drastically improved. Today, Invisalign aligners can be used to move teeth more efficiently in most mild to moderate cases. With patient compliance, Invisalign aligners can be just as effective as traditional braces. Just ask the seven million patients who have been treated with Invisalign all over the world!
Does Invisalign treatment take longer than braces?
To be successful, any kind of orthodontic treatment relies on a commitment from the patient. Compliance is particularly important with Invisalign. Traditional braces are a fixed appliance, with brackets affixed to the actual surface of the teeth. That means a great deal of hard work is done without too much effort from the patient. However, Invisalign aligners are removable and must be worn 20-22 hours a day for the system to work properly. Patients who neglect to do so won't see the results they desire and may face longer treatment times in general.
Unfortunately, there's no "one size fits all" answer as to how long a patient will need orthodontic treatment. Every case is different and each patient will respond to treatment in their own way. In general, however, most people will wear Invisalign aligners for anywhere from 4–15 months, with 7–30 aligners typically used throughout the treatment. This is comparable to the average time spent in braces with patient cooperation on wearing the aligners as instructed.
Is Invisalign more expensive than braces?
There are several factors associated with the overall cost of any treatment. In our office, you're able to choose a treatment option that will fit best with your lifestyle. Because of this, we do not charge more for Invisalign than we do for braces treatment.
Our practice is committed to providing high-quality, affordable orthodontic care to patients of all ages in San Ramon and the surrounding communities. We offer a variety of payment plans to ensure your treatment always fits your budget. We can even work with you to coincide your billing cycles with your pay periods, just to eliminate any stress. A better smile is always in the budget at Bigman Orthodontics!
Does Invisalign have any advantages over traditional braces?
Invisalign allows patients freedom and flexibility that more traditional treatment methods just can't beat. Food restrictions are a perfect example of this. For many patients, one of the toughest parts of treatment is having to give up some of their favorite foods to keep their braces safe. They must avoid anything crunchy or chewy, which eliminates several popular foods and snacks. With Invisalign, this is never an issue! The aligners are simply taken out before eating, then put back in when the patient is done. Not having any food restrictions makes orthodontic treatment a lot more manageable (and fun!)
Removable aligners also make it easier to maintain a good oral hygiene routine. Brushing and flossing around wires, brackets, and bands can be frustrating and time-consuming, but Invisalign aligners are removed before brushing and flossing as normal. Caring for the aligners themselves is a cinch, too! There are special kits designed to clean them, or they can be gently brushed using toothpaste and a soft toothbrush.
Without any wires or brackets to get in the way, Invisalign's removable aligners are great for athletes and musicians who play certain instruments. Since they can be removed for short periods, they are also perfect for any special event when a patient wants their natural smile to shine through, such as prom, weddings, or even senior pictures.
Will Invisalign work for everyone?
Invisalign tends to work best for teen and adult patients with all their permanent teeth have grown in. With our extensive training and experience in Invisalign treatment, we can confidently treat nearly every type of alignment or bite issue, from minor to severe, bite, and teeth malalignment. When you schedule a consultation with us, our doctors will be able to determine if Invisalign is a good fit for your unique smile, or if you would be better served by orthodontic treatment using traditional braces. In many cases, patients can choose between braces and Invisalign aligners!
What happens once Invisalign treatment is complete?
Whatever method of orthodontic treatment a patient chooses, the teeth always remember their previous places in the mouth. Over time, they will naturally begin to drift back towards those positions if nothing is there to stop them. That's why retainers are an essential component for lasting results! Our office will provide you with a retainer once your treatment is complete. Wearing this retainer exactly as directed by our doctors will help keep your newly straightened smiles in place for years to come.
Trust your smile to the Invisalign experts at Bigman Orthodontics, you can trust our expert team to give you a smile that looks good and feels great! As our most popular alternative to traditional braces, Invisalign's innovative aligner system continues to change the way people view orthodontic treatment. To learn more about the incredible things Invisalign can do for your smile, get in touch with us today to schedule a FREE consultation!